About Our Studio

Offering the most modern piercing techniques and a light, clean, and spacious studio, you'll find yourself at ease in a welcoming atmosphere. A wide range of piercing from the more common navel and nipple piercings to more advanced male and female genital piercings and everything in between is available. All piercings are carried out in a private consultation room ensuring you one of the best piercing experiences.
Looking for some new jewelry for existing or new piercings? We got it! Come in to view our custom ordered selection and consult with our experienced piercer to find the jewelry that's the best fit for you.
Things to Know Before Your Piercing
While we love to make all our customers happy, it is important to be aware that not everyone is old enough to be pierced. All male or female nipple and genital piercings you must be 18 and over. For tongue piercings the client must be over 16 and we pierce no younger than 14 for any piercing. It is important to note that all piercings are at the piercer's discretion. Our piercer is experienced and only looking out for your health and best interests when it comes to making these calls on clients under 18. In addition any clients under 18 in the state of Florida are required to be notarized.
The standard notary fee is $10 and requires proper identification of both the person to be pierced and the proper identification of a parent or legal guardian. The last name or address on both ID's must match for our notary and a proper form of ID must consist of the persons photo, full name, date of birth, and address. Common used forms of identification are passports, drivers licenses, and state ID's.
For our piercings we do them by hand allowing the utmost accuracy and precision. We utilize medical grade standard initial jewelry made of PTFE for most piercings. We believe you will be impressed as well as delighted in the rapid healing process and comfort of this custom fitted flexible jewelry.
We also use and sell Titanium body jewelry. Titanium is a very light allergy free medal which is used for surgical implants (plates, screws, etc.). Most often we use the PTFE for piercing such as naval, eyebrow, nipple, cartilage, labret, tragus, Madonna. The titanium is more often used for piercings such as the nose, tongue, ear, smiley and lots more.
Care of Your Piercing
All after care directions will be fully explained by the piercer at the time of you piercing. Please be sure to address any questions or concerns you have so we can help you have the most positive piercing experience.
Types of Piercings Available
We do almost all types of piercings in shop with the exception of the following:
• Eye Dermals
• Septum
• Bridge
• Webbing of Tongue
• Webbing on Hands
Don't see your piercing on the list? Come on in! For any concerns or availability please always feel free to call us ahead of time at 850-650-6334.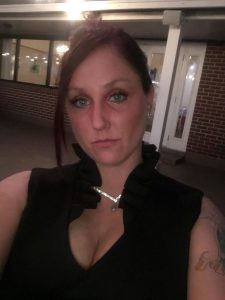 Stella, Main Piercer